Fax:+86 371-67992755
Tel: +86 371-67991755
Sales direct: +86 15838331071
E-mail:sales@battemachinery.com
https://www.thermoplastextrusionpump.com
24h services
Booster melt pump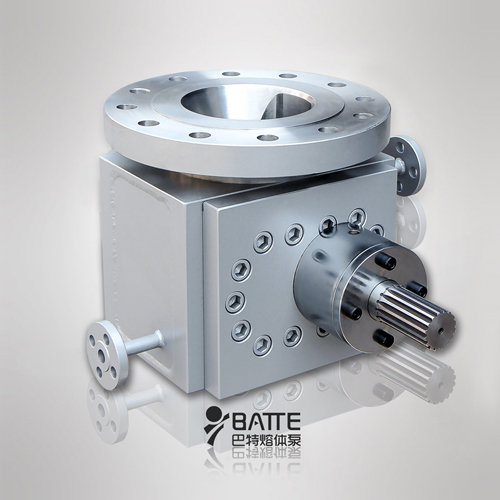 Booster melt pump is used for transportation, pressurization or the metering of the high temperature and high viscosity polymer melt.Booster melt pumps are used in the polymerisation process, to boost the pressure of medium to high viscosity media.
  Batte Machinery Zhengzhou Co.,Ltd is one of the biggest manufacturer for melt pump in China. Being a professional supplier for melt pump products, we have been accumulating adequate experience on the application-specific technique. In addition to providing services and spare parts for our own pumps, we also provide comprehensive service packages for melt pump produced by other manufacturers.
  Batte Booster Melt Pump have a unique positive displacement design which provides consistent, accurate polymer delivery under varying extruder output conditions of pressure, temperature and viscosity. With Batte Booster Melt Pump providing the pressure between the extruder and the die, extruder parameters can be configured to provide a homogeneous melt at increased throughout and tighter gauge tolerances.
  Applications:
  Booster melt pump are widely used in plastics, resins, rubber and chemical products extrusion. Such as: granulation, film, pipe, plate, sheet, synthetic fibers, fiber optics, medical plastic catheters and other industries.
  Processable material covering almost the most polymeric materials, such as PE, PC, PP, PVC, HIPS, PS, PA, TPUR, fluoropolymers, polysulfones, polyesters, thermoplastic elastomer, rubber and adhesive fever.

Batte Machinery Zhengzhou Co.,Ltd is specialized in the production and processing of custom manufacturers.
Place of Origin: Henan, China (Mainland)
  Brand Name: Batte
  Model Number: ZB-B,ZB-C,ZB-D,ZB-E,ZB-F,ZB-G,ZB-H,ZB-K,ZB-R
  Theory: Positive Displacement Gear Pump
  Structure: Gear Pump
  Usage: Plastic, Rubber Pump and Fiber
  Power: Electric or Oil
  Fuel: No Need
  Pressure: High Pressure
  Application: transportation, pressurization or the metering of polymer
  Scope of Application: Almost all kinds of polymers(plastic, rubber, chemical fiber...)
  Viscosity: Up to 40000Pas
  Gear Tooth: Straight (Optional),Helical gear pump(Optional),Herringbone gear pump(Optional)
  Sealing Method: Machinery sealing (Optional)
  Heating Method: Stainless Steel Heating Rod

Relative Articles:

@2015 Batte Machinery Zhengzhou Co.,Ltd. All rights reserved. 
sales@battemachinery.com
Batte is a professional manufacturer and exporter of
Screen Changer
、
melt pump
and
loss in weight feeder
.