Fax:+86 371-67992755
Tel: +86 371-67991755
Sales direct: +86 15838331071
E-mail:sales@battemachinery.com
https://www.thermoplastextrusionpump.com
24h services
Extrusion gear pump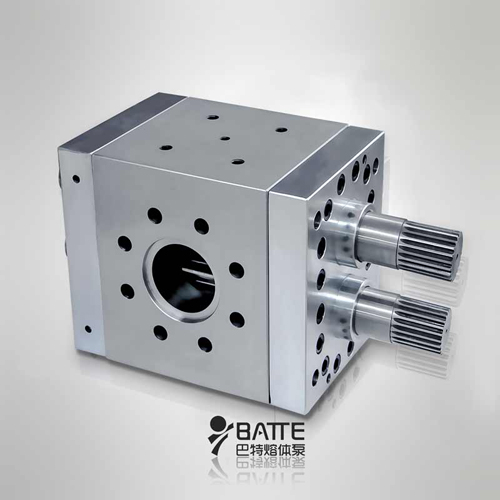 Zhengzhou batte extrusion gear pump is mainly used for high temperature and high viscosity polymer melt conveying, pressure, measurement. Batte series extrusion pump (gear pump) will come from the high temperature of the extruder to melt the pressurized. After the steady flow of the regulator flows stably into the extrusion die. Its stable melt pressure, flow capacity is better than various types of extruder. Abroad, widely used in plastic, resin, rubber extrusion molding.
Batte Machinery Zhengzhou Co.,Ltd is specialized in the production and processing of custom manufacturers.
Main business:Extrusion gear pump,Metering gear pump,Rubber gear pump,Chemical gear pump,Melt pump,Gear melt pump,Metering melt pump,Booster melt pump,Circular melt pump,Plastic melt pump,High-viscosity melt pump,Polymer melt pump,High temperature melt pump,Pipeline gear pump,Rubber gear pump,etc.
The main advantage of batte extrusion gear pump:
1, stable output pressure
2, improve the quality of products
3, improve the productivity of extrusion
4, reduce unit energy consumption

Relative Articles:
◆Application of melt pump in extruding produ
◆What are the benefits of plastic extrusion
◆Polymer thermoplast extrusion pump
◆Extrusion molding characteristics of melt p
◆the extrusion and injection technology of m
◆Application of Batte Melt Pump in Extrusion

@2015 Batte Machinery Zhengzhou Co.,Ltd. All rights reserved. 
sales@battemachinery.com
Batte is a professional manufacturer and exporter of
Screen Changer
、
melt pump
and
loss in weight feeder
.